Airport 2030 – The Tech of Travel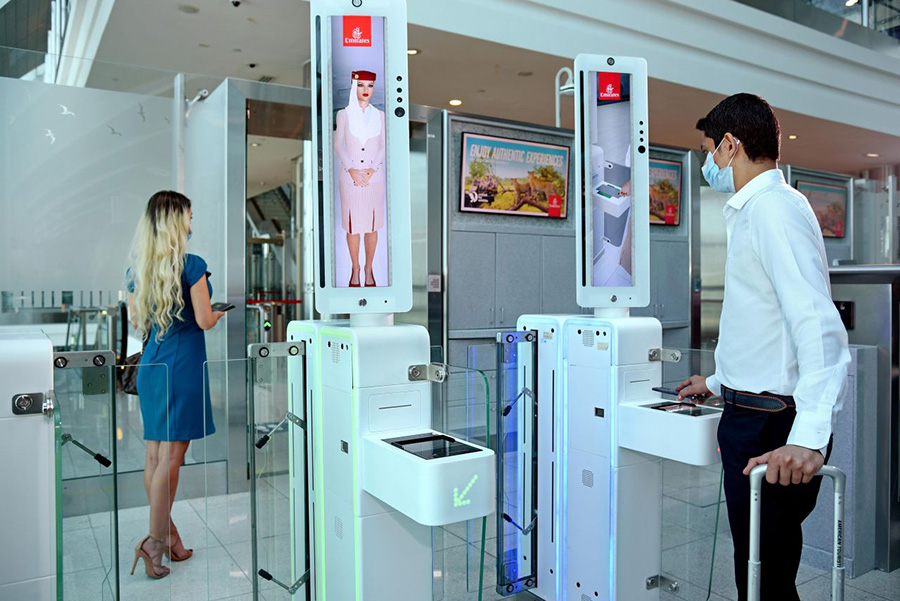 Domestic and international air travel has been one of the most impacted sectors as the COVID-19 pandemic took hold. As the world unlocks, airports will once again become travel hubs. However, by 2030, airports will be different environments utilising a range of technologies to improve services and keep travellers safe.
Speaking in 2017, Paul Griffiths, Dubai Airports CEO, said: "We need to take a leaf out of the books of Uber, Amazon, Facebook and eBay and all of those who have applied technology and process design to reimagine their entire business around customer convenience… this would trigger a dramatic redesign of airports." Fast-forward to 2030, and this statement will see reality with a raft of technologies in use across the world's airports.
"The central premise with COVID-19 has been to reduce contact between people and remove bottlenecks in airports, and technology has been asked to mature rapidly to meet these needs," Jeff Lennon, head of strategic sales and global partnerships at Vision-Box that implements biometric and contactless technologies at airports around the world explained to Digital Bulletin. 
"We envisage a modern vision of the airport in the year 2030, where the passenger journey is automated through contactless biometric identification systems, airport management is characterised by multi-source data stream orchestration, and data-informed collaborative decisions are made at the distance of a click."
Also, the 'new normal' for airports is to embrace the range of technologies that have come on-stream to support their growth ambitions, but critically, to meet the expectations and demands of today's and future passengers. Increasingly this means more automation and self-service. In addition, the burgeoning IoT (Internet of Things), edge data networks, and virtual modelling will be fundamental technologies that will shape the airport in 2030.
Parallels can be seen across manufacturing, where Industry 4.0 drives how digital tools and services are implemented. Airport 4.0 will make similar fundamental changes using a range of technologies. The maturity of airports as they look to re-shape their digital transformation roadmaps is accelerating. However, operational performance is often the focus of the investment. Here, technology will be an enabler that will help airports vastly transform their day-to-day operating systems and allow them to look further and deliver new experiences to their customers.
To make air travel the seamless, efficient industry it strives to become, digital technologies will have to be integrated. Security is always front of mind. The airport of 2030 will use biometric identification to speed travellers through passport control and security.
"Testing is the immediate solution to safely re-open borders and re-connect people," says Alexandre de Juniac, IATA's (International Air Transport Association) Director General and CEO. "And eventually this is likely to transition to vaccination requirements. In either case, a secure system to manage COVID-19 testing or vaccination information is critical. The IATA Travel Pass is a solution that both travellers and governments can trust. And it is being built with data security, convenience and verification as top priorities."
Airports have been moving increasingly towards more self-service. The pandemic has accelerated these technologies. For example, touch terminals will be replaced as we enter a post-touch environment to reduce the potential transmission of infection. In addition, Etihad Airways is testing a kiosk that can monitor a passenger's heart rate, temperature, and respiration. 

Jorg Oppermann, Vice President Hub and Midfield Operations, Etihad Airways, commented: "We are testing this technology because we believe it will not only help in the current COVID-19 outbreak, but also into the future, with assessing a passenger's suitability to travel and thus minimising disruptions."
Passengers can even become touchless and self-service even before they reach their airport with technology from AirPortr. Airports will allow luggage to be collected and checked in from passengers' homes or offices up to 24 hours before their flight. With the first drop-off point planned at the Heathrow Express train platforms, customers will be able to quickly and securely drop off their luggage at peak times before traveling bag-free straight through to security. Passengers can track their luggage online from the moment it leaves their doorstep, or at the T5 key access areas, right up to the bag loaded onto the aircraft. Customers using the services also receive digital bag tag receipts.
Robotics may be novel now – Munich Airport's Josie Pepper, Fraport's YAPE self-service robot, and British Airways' collaboration with BotsAndUs will test autonomous robotics in Terminal 5, but this technology is on a rapid upward trajectory which will see these devices becoming commonplace across the world's airports. And as AR expands, the Japanese airline ANA is experimenting with avatars and telepresence and how this can be used to aid passenger journeys.
Many of the technologies and digital services airports will have in place by 2030 will rely upon the smartphone. Now ubiquitous, airport users will be able to access a range of services on their phones. For airports and technology developers, this ecosystem of devices enables them to create integrated services that can be personalized to each user. The seamless experience that removes friction from a traveller's journey is the endgame for these technologies.
"Phones, which will effectively replace the need for passports or boarding passes – although, thanks to biometrics and automation, they'll rarely be used in that capacity – will now connect travellers to every aspect of their pre-flight journey. And in real-time," says the Future of Air Travel report from Netflights.
The airport of 2030 will begin to leverage the power of passengers' smartphones even before they arrive at the terminal. Connecting with passengers throughout their journey starts long before their date of departure. Connecting OTAs (Online Travel Agents) with the systems airports have in place removes anxiety and replaces this with a great experience delivered via a range of digital devices.
Wayfinding, for instance, is now using AR (Augmented Reality) to enable passengers to navigate an airport easily they may not be familiar with. The next wave of digital spectacles is on the near horizon and will further enhance the traveller's experience of airports as they access a range of services.
Airports become digital ecosystems that use embedded IoT sensor technologies connected via fast mobile broadband networks. Here the digital twin will deliver massive operational benefits to airports and their users. "Digital twin technology can simulate the propagation and exposures of the virus to highlight potential cross-infection areas in the airport," says John Kitchingman, managing director EuroNorth, Dassault Systèmes. "Using this data, digital twins can model related impacts on passengers and their surroundings, ensuring that airport managers can implement the right steps to guarantee the safety of all passengers and staff."
The smartphone will form the hub around which many of the technologies airports will use and leverage burgeoning technologies, including AI and edge computing, Thomas Rehberg, head of aviation and Public Safety at Nokia, told Digital Bulletin: "The objectives of the airport of 2030 are likely to revolve around providing a consistently frictionless and safe passenger experience. Airport teams always need to monitor operations and activity and react quickly, especially where security is concerned. 
Rehberg continued: "When an incident occurs at an airport, it is of utmost importance that it is resolved as quickly as possible and minimise the impact on turnarounds. Technology, such as AI and Edge Computing will be able to support ground staff by helping to manage and process data, enabling them to make quick decisions and reduce the impact of adverse activities on passengers. These advanced capabilities must be supported by a robust, private network based on 4G or 5G to create the wireless foundation for Airport 4.0."
Like many other industries and sectors, airports are data businesses. The ability to collect masses of information about every aspect of their operations and customer behaviour enables airports to unlock the value that this data reveals. But, more importantly, technologies like machine learning will offer airports insights that airports can use on a practical level to reduce their costs, increase efficiency, and above all else, improve their customer-facing services.
Speaking to Digital Bulletin, Billy Shallow, director of innovation and technology at Airports Council International (ACI) World, commented: "Digital processes are no longer 'nice to have' but have become crucial to ensure as minimal impact as possible to the passenger experience as traffic resumes. It is therefore critical to accelerate their adoption. We must continue to build passenger confidence. Several countries have set up portals to allow passengers to lodge their information. This provides passengers with the assurance that they are compliant before departing."
Airports over the next decade will embrace new technologies that will deliver a seamless experience to travellers. Nokia's Thomas Rehberg concludes: "As the journey towards Airport 4.0 continues, the importance of connectivity grows. Connectivity can no longer be treated as a commodity, but rather as a strategic asset that is as important to an airport as the runway. Alongside this, airports must invest in the type of technology that aligns with their sustainability goals. The aviation industry will remain under scrutiny for its contributions to green initiatives and it is key to make the type of decisions now that will have positive impacts later."
The airport today is a crowded and often confusing space to navigate through. Airport owners have embraced some technologies to improve overall service delivery. The more transformative technologies have suddenly become prescient as fallout from the pandemic has pushed them to innovate. And innovate they must, as the IATA estimates in the Asia-Pacific region alone, passenger numbers by 2036 could add an additional 2.1 billion new passengers. With many airports already at capacity, technologies will help these airports better manage their services.