Converging AI and data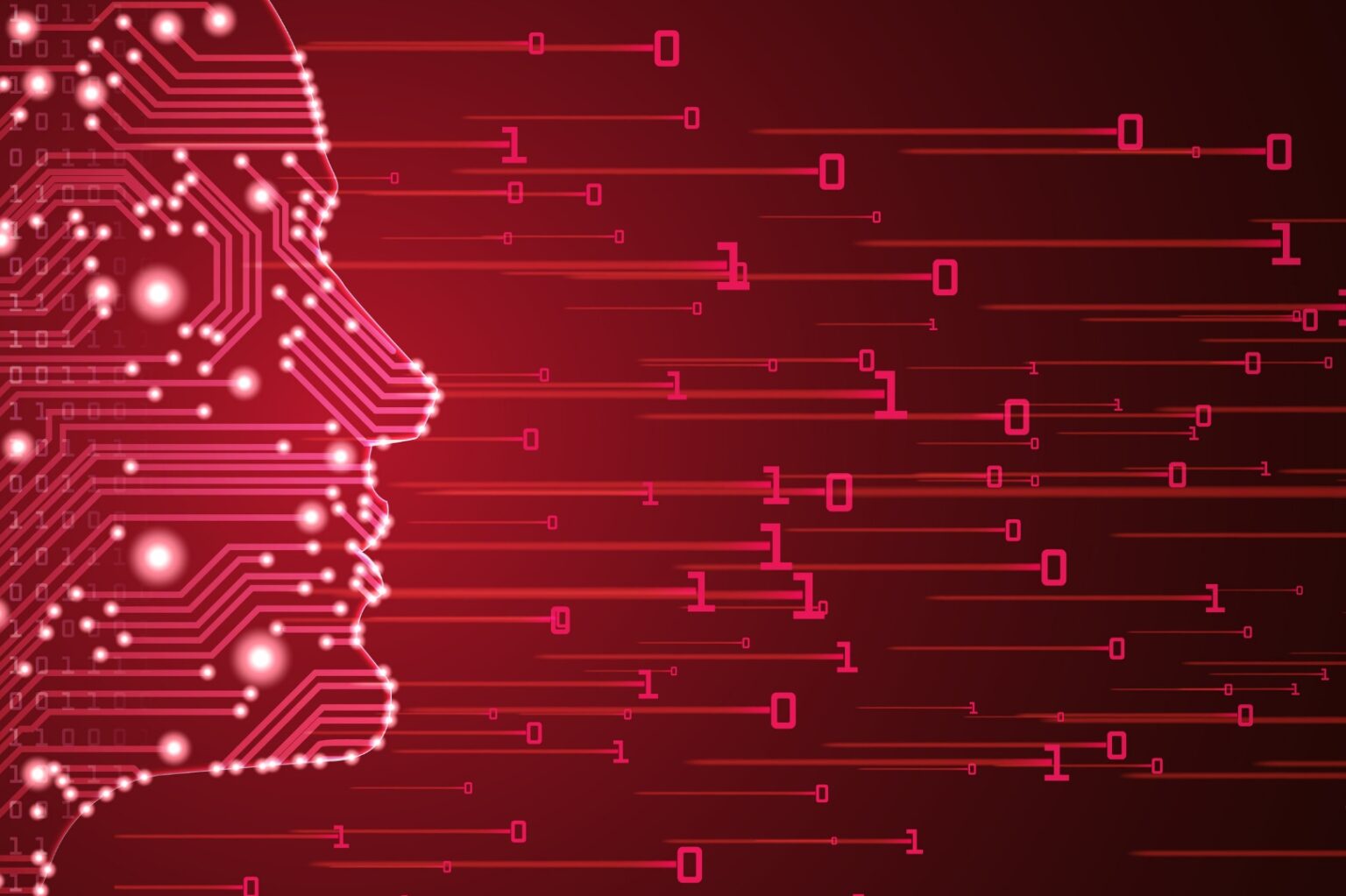 It's difficult to imagine a world without Google's search engine in your pocket. Along with a handful of other products of the technological age, it has helped alter human behaviour, becoming part of the fabric of our lives.
Google receives 63,000 searches per second, 3.5 billion every day. Its multi-platform functionality and near flawless service have made it an online staple for us all. Over the 21 years since its launch, Google's culture of innovation has driven this growth, with its underlying capabilities continually augmented with new layers of technology.
Artificial intelligence (AI) has been central to this development, allowing Google to break ground and build the personalised and predictive search engine available at our fingertips today. Deep learning in the form of RankBrain – a vital component of Google's core algorithm – helps determine the most relevant query responses, improving the user experience.
Similar strands of AI are now germinating elsewhere in enterprise and Cuddle.ai, an offshoot of AI solutions developer Fractal Analytics, is emergent in this space. The Cuddle platform uses AI to deliver bespoke data insights to an organisation's employees, all with a functionality that co-founder Natwar Mall says has been modelled on Google.
"Our principle motivation was this: how could we reimagine how business users go about making decisions? How can we help more with data, just in the way that, in our own lives, Google helps us?" he explains to Digital Bulletin.
Cuddle users are able to input queries and the application's engine, which processes natural language, responds with instant answers. This, it claims, allows employees to reap the benefits of data usage without being trained as analysts.
Mall says the idea was conceived when Fractal encountered a common problem with its global clients: the majority of their workers were not able to extract anywhere near the amount of potential from the data at their disposal.
"We worked with a whole bunch of companies; some of the largest tech companies, some of the largest insurance companies, and lots more," he says. "Across all of those companies, we had a paradox of sorts; we had companies with CIOs who were investing millions of dollars into data and infrastructure. But at the same time, the business users in departments such as sales or marketing were really struggling to enjoy the benefits of all of that infrastructure."
This is where Cuddle's Google-like usability across both desktop and mobile makes it an attractive proposition for organisations looking to give all of its employees access to data. Individuals working in sales teams, for example, can get instant progress updates on their KPIs, or financial professionals can feed decision-making with real-time and relevant analytics on current fiscal data.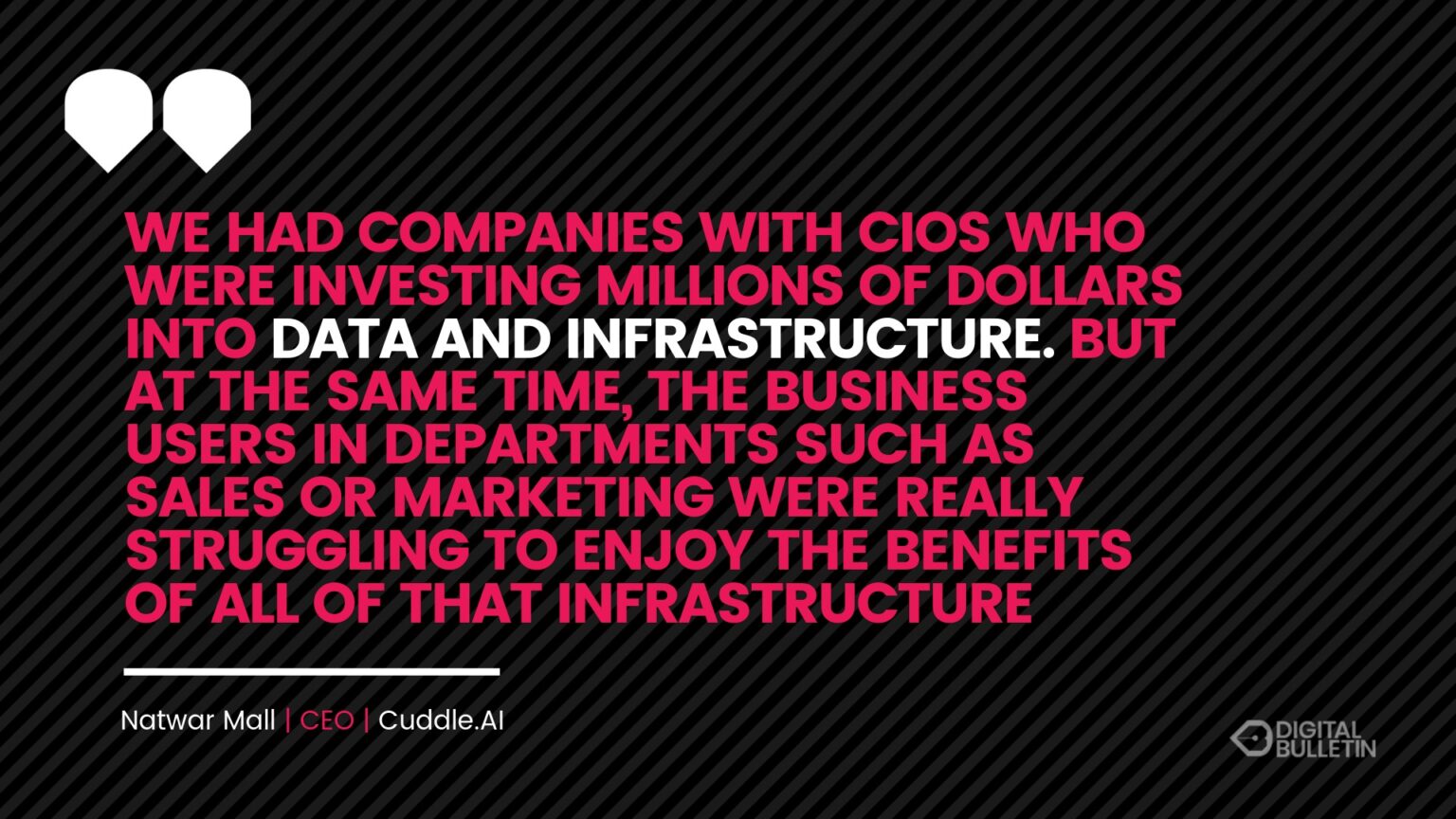 Cuddle labels its offering as an 'experiential analytics' platform. By its own definition, experiential analytics 'combines experiential learning concepts with business analytics to allow any employee to better utilise information and make more data-based decisions'. Mall believes Cuddle stands out as it focuses on the needs of the user, rather than having been created from an obsession over the data or technology.
"At the heart of it, it is about what is the starting point for your business? For us, the starting point is the customer," he adds.
"We have seen loads of platforms before where they were all very data-centric. They're all about the data and looking at what they can do with that data. Whereas, for us, we have built the product around the user.
"Sometimes when you start thinking user-first, however, users are not motivated to go to data. That's just who we are; working with data is a very heavy task and it takes a lot of effort to analyse data. It takes a while to figure it out, so that's why we appeal to companies."
Cuddle is just one product of the increasing convergence between data analytics and AI. Its own custom-built AI engine works alongside experiential analytics to deepen the service beyond a simple 'question and answer' interaction with its user.
By 'learning' the natural language input over time, Cuddle is able to suggest additional insights – again, similar to how Google predicts a user's search intentions and how Amazon points to complementary products when a customer makes a purchase. It is also able to offer 'nudges' when the AI engine detects potential data anomalies that may be of interest.
"What we have seen with our clients is fundamental behavioural changes which would otherwise be very hard to accomplish," reveals Mall. "We did an experiment where some people were using Cuddle and some were not, and the difference in targets being achieved was close to 8%.
"While the platform is being used, Cuddle is trying to learn what that user is really interested in. That forms the basis to automatically detect anomalies in data and then push the right alerts to the right users. That's how this whole learning engine works; learn from the users through natural language, build an understanding of the user and then match them with the right insights.
"In the last few months we have taken it a step forward too. We can now take somebody who is responsible for a certain region, and then we can reveal trends for that particular region, or patterns which that person might want to look at."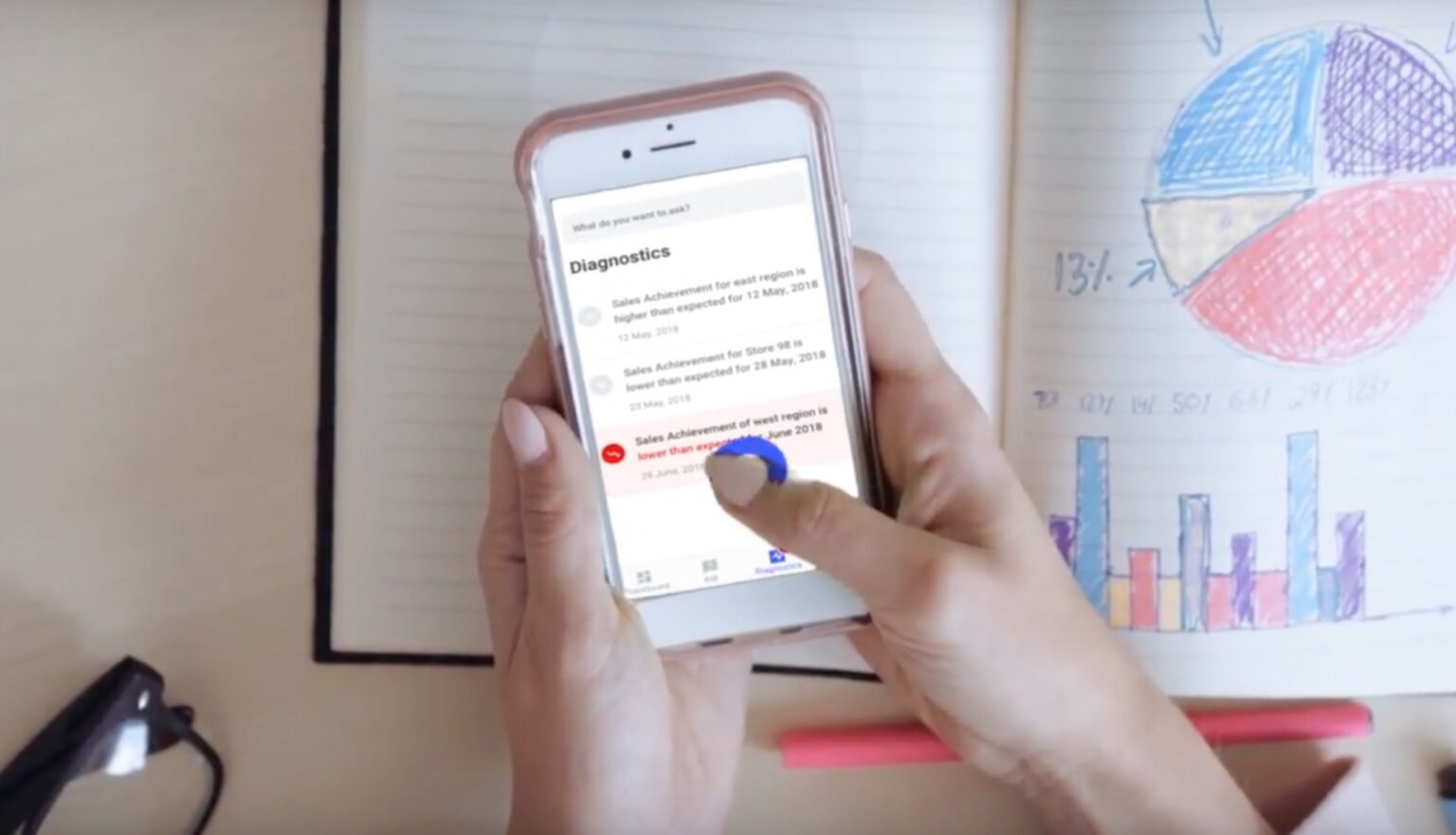 Cuddle.ai was incubated back in 2016 but strategic changes have led to increased adoption of its product over the past 12 months. Initial sales were kept to Fractal's own clients but now it counts customers across multiple industries in the United States, Europe and Asia.
Building the compute power to scale is a present challenge for Mall and his team, alongside the need to integrate Cuddle into the variable workflows developed by different businesses across the enterprise.
"It is a fairly tricky problem to solve; the AI needs to work on top of enterprise data, and that data will be very different from one company to another, from one industry to another industry," he admits.
"Our expectations from a technology perspective is that it should work like Google, but at the same time for any computation and any task. So how do we scale using cloud technology to deliver the experience which the user expects? That's a challenge.
"We want to be available everywhere. We want to be on Skype for Business, on Slack, or there for any business meeting assistant. If you're in a meeting, it would be great if you could ask Cuddle any question and it could give answers in the room. That's the kind of integration we're after now."
As owners of a bespoke, scalable solution built on AI, Cuddle is certainly well placed to benefit from the accelerated demand for data intelligence solutions. Mall is adamant we will see even more change in the landscape over the next two years, with natural language processing further coming to the fore.
"AI, deep learning, machine learning, and all based on user interaction – that combination can change the way businesses use data for their decision-making. We believe that the way this is happening today will be very different to how it will look two years from now; natural language will become a lot more predictive, insights will be pushed to users, learning from users – all of this will happen.
"AI has got to be at the centre of these technologies and platforms, and that's why the landscape will change quite a lot going forward."
Mall also believes that leaders should place AI at the front of their thinking, in terms of both when they're innovating and problem-solving. He concludes: "One way to think about it is that every problem can be thought of as an AI problem.
"With the amount of data businesses have, and with the leaps we have seen in technology and AI, industries will start looking at all of their problems from an AI level. That can create a strong jump in how the solutions will come about and it's going to be fun seeing how industries can achieve that."