ROM2: Operating Intelligent Automation
SS&C Blue Prism introduced its Robotic Operating Model (ROM) for RPA 15 years ago and it was adopted around the world. Now, however, comes ROM2 – an overhauled model for the age of AI. Emma Kirby-Kidd explains.
Sensational media splashes of the artificial-intelligence "gold rush" surround us, but for once it feels true. The lack of regulation, the allure of shiny new life-changing products, and the possibility to reinvigorate entire economies are the hills to which the prospectors are rushing. There will be a human cost as well, just as there was in 1848, as a fear of being runner-up in the race for AI riches leads to hurried decisions and a preponderance of snake oil.
Intelligent Automation (IA) is one of AI's most promising seams. Put simply, IA is the combination of cognitive computing with Robotic Process Automation (RPA). While RPA has long been a powerful tool to deliver efficiency and added value into business's operations, IA juices it with the ability to examine vast troves of data and make continuous decisions.
RPA's first Forty-niner was SS&C Blue Prism, which pioneered the concept of digital workers taking on routine tasks more than 20 years ago. It has been winning awards for the application of AI to RPA for the last seven of those and knows better than any the methods for finding pay dirt. The secret is in its Robotic Operating Model (ROM) – a whole-organisation methodology for success, without which overenthusiastic companies can find themselves prospecting without a map.
"You do see a lot of tech companies chasing the sales of licenses in Intelligent Automation without really building any kind of framework," says Emma Kirby-Kidd, Global Head of ROM at SS&C Blue Prism. "Our motivation is different; it's to make companies successful. To help them grow."
Kirby-Kidd is now leading the roll-out of the company's updated model, ROM2, which represents a significant enhancement over the framework it first unveiled 15 years ago.
"Actually, for the early adopters, we made a virtue of the fact that it was built by our customers for our customers," she says. "It was very much focused on the implementation of robotic process automation. So it was good – ground-breaking even – and that's coming from someone who was once one of SS&C Blue Prism's customers. But it began to have a dated maturity model, it wasn't moving forward at the pace that the industry has, and it didn't address Intelligent Automation in any way. So it needed a refresh."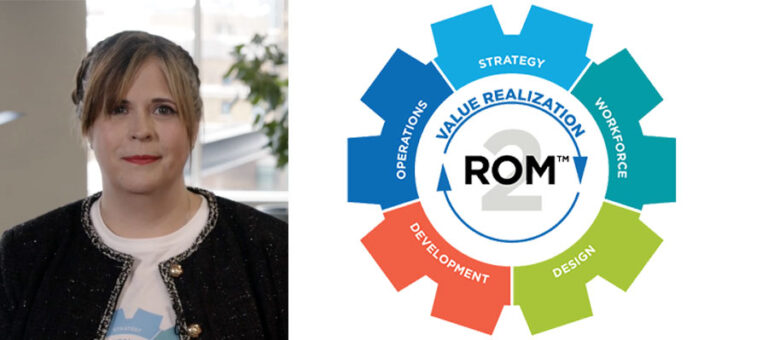 Hence, ROM2. Based on five foundations – strategy, workforce, design, development and operations – it's striking how much of ROM2's value proposition is now in the planning and development of a bespoke intelligent automation transformation ecosystem, rather than simply bolting it onto (or indeed over) existing ways of working. Before you get to the tech, then, you need the human insight to drive the solutions
"Absolutely you have to humanise what is not a standard software implementation," says Kirby-Kidd. "It's all about thinking forward, so you're not just saying 'we're going to be efficient' and then not look at your problem statement for three years. You've got to be more proactive than that.
We've put a lot of work into gaining trust and buy-in upfront, where you can build a collaborative workforce with digital co-workers that doesn't have the atmosphere of 'the robots are coming to take our jobs'. And that comes with good strategy."
It is interesting that Kirby-Kidd and ROM2 directly addresses some of the more cultural issues that come with RPA and AI, specifically in the strategy and workforce phase of the five-step process. ROM2 has an established organisational model framing roles and responsibilities, and recommends a Centre of Excellence of critical thinkers to drive both IA implementation and the upskilling of the workforce. Long gone are the days of RPA and AI projects being siloed within IT departments, with everyone else suspiciously looking on.
"The most effective way of IA implementation is across an organisation," agrees Kirby-Kidd. "I'm passionate about this; otherwise, you just struggle with getting buy in. ROM and ROM2 both suggest roles that traditionally have worked in this process, but you can't be prescriptive as every company is different.
"What we always say is that it's down to us as SS&C Blue Prism to coach our customers through how IA will best work, rather than tell them 'ROM2 means you must do it this way.' It's a guideline, ultimately."
The ROM2 methodology focuses on creating a model for growth, a key area of development from the original ROM idea. It was about moving away from simply guiding implementation and towards a scalable solution for IA expansion, one which could continuously evolve to match the pace and style of the organisation.
"Over the years we've gathered enough data, experience and knowledge to make this process easy for people at the start of their journey, but also meaningful for organisations at whatever stage they're at," adds Kirby-Kidd.
"It's about validating IA's benefits, adding continuous improvement, scaling automation to redesign and reengineer customer and employee journeys – and finally being able to use automation to innovate and digitally transform an entire organisation's operations.
"But it's a stacked maturity model – you don't have to do all of these things in each of our five levels. It's about highlighting the proven ways to scale and sitting down with our customers to work out the best way of using them to make ROM2 work for their business."
So in its very basic sense, SS&C Blue Prism works with companies to set out their vision and strategy for IA growth using ROM2, and then suggests the technologies that can help make that strategy work. It might be, for example, that chatbots do not add value, but application automation would. ROM2 simply becomes part of a toolkit for success.
"We've actually made it tool agnostic," says Kirby-Kidd. "We know customers will be using technologies from other companies. They might even be competitors to us – you'd expect a good head of automation to be constantly looking for the most suitable solution. What we actually want is for our customers to use our framework and maturity model to grow and evolve."
Kirby-Kidd talks enthusiastically of organisations achieving huge savings and making a real difference to people's lives, both inside and outside. That's the real success of a coherent strategy for Intelligent Automation – the understanding that it can be a collaborative part of an organisation's journey to success.
"What we do at SS&C Blue Prism – and in a sense what all companies do – is build relationships by talking to customers," she says. "That's something digital workers will always struggle to achieve and it's one of our biggest skillsets as humans; we can use empathy to find a solution. The one thing I absolutely love is that our customers are absolutely passionate about their use cases – you rarely speak to anyone who is disengaged or demotivated by IA; they can see the benefits
"So I think there's two things going on here; you can free people up to do the creative, value-added work. But you can also get them to be more empowered, to take lead roles, to have the headspace to be more impactful for customers. Robots are actually empowering you to be more human, not less."
SS&C Blue Prism holds Customer Excellence Awards every year to celebrate the people using IA technologies to transform companies and organisations across the planet. And it is truly global – this year there were winners from the United States, Hong Kong, Spain, Chile, Canada, and the UK.
But beyond some of the stories of huge success – the US National Grid RPA team won for hitting 100 automations and the 10 millionth item processed by digital workers – as a judge and presenter of the awards, Kirby-Kidd is just as enthused by the smaller operations.
"It's when you get use cases which are making a real change to people's lives," she says. "I love all the NHS ones because they're genuinely making a difference to things like waiting lists. It just blows my mind."
The Northumbria Healthcare NHS Foundation Trust was global winner in the Best Newcomer category for improving processes for vital clinical data and reducing backlogs and workloads, but what Kirby-Kidd also loves about the awards is the networking and feedback loop it's encouraging.
"It gets people to think outside the box with their own organisation," she says, "and think about how they can apply this incredible solution in their own industry, even if it's completely different.
"It's even gone beyond just celebrating creativity now. We talk to people working out how they can create revenue using these ideas, which gets me really excited. I mean, if you listen to people at the awards they're not afraid to tell you about a really tough problem, but also how they worked around it. That's what I love about this whole community that's built around ROM and ROM2; the shared sense that we can help each other."