KCOM's business transformation
Chief Technology Officer Tim Shaw highlights how IT transformation and new ways of working are helping UK telco KCOM deliver world-class fibre broadband to its customers
In the busy UK telecoms space, KCOM has always marked itself out from the crowd. Everything from its backstory to the close relationship it holds with its customers – and even its distinctive branding – speaks to a company proud to be different.
This identity has been forged over more than 100 years of service to the citizens of Kingston upon Hull and the county of East Riding of Yorkshire. Founded in 1904 as the 'Hull Telephone Department', KCOM moved quickly as technology progressed in the 20th and 21st centuries and revolutionised communications.
Today, KCOM boasts enterprise offerings at a national level, keeping it at the cutting edge of developments in customer and cloud-native services. But its core purpose remains the same: to supply the very best broadband and telephony to its local people and businesses.
KCOM is uniquely positioned in this sense, holding a monopoly in the region. A legacy of Hull City Council's decision to retain ownership of its entire network when the UK began nationalisation through BT, KCOM is Hull and East Riding's one-stop shop for all things telecoms. This has pros and cons – and so gives KCOM the impetus to innovate.
In October 2019, Hull became the UK's first city to offer full fibre broadband to everybody, the result of a bold £85 million investment from KCOM seven years earlier. In January 2020, KCOM committed to a further £100 million in spending to take that network to the wider East Riding region. "More people than ever will be able to access one of the best broadband services on the planet," claimed Managing Director Sean Royce.
With this award-winning rollout picking up pace, KCOM's commitment to its customers is clear. But in order for the organisation to deliver a level of service that matches its broadband speeds, it is also having to refresh its internal systems and processes, introducing advanced technology and new ways of working. That is where Tim Shaw comes in.
Shaw is KCOM's Chief Technology Officer and has overarching responsibility for the company's network and IT capabilities. He joined KCOM in June 2019 to lead its renewed transformation programme, having served in a variety of senior roles within some of the UK's biggest telecoms providers.
"Digital transformation is right at the top of our agenda," Shaw tells Digital Bulletin as he settles down to talk about an engrossing start to life at KCOM, which has also included a global pandemic being thrown into the mix.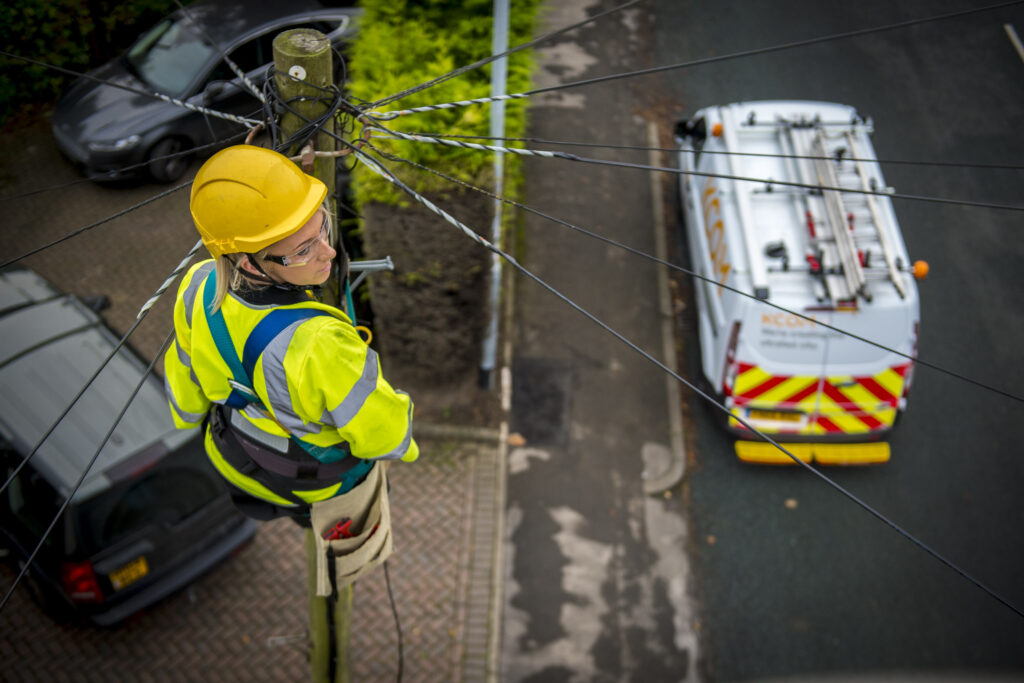 Shaw's experience in the industry gave him the nose for what KCOM excelled at and where it could improve when it came to business systems. His assessment of the obstacles was three-fold, starting with the customer experience.
"If you think around telecoms in general, we've got to move away from complex products. Customers are always demanding more, quicker, with less interaction, smoother, less friction. Because of our history, some of our systems and our processes were just not customer-friendly. It was the first thing I noticed when joining and we quickly decided that was the big change we had to make," he says.
"The second one was really around digital-first and how thinking in that way becomes absolutely critical. Voice is still important – customers still love to talk to people – but there's also a large proportion of customers that want that digital experience. They're very much used to that elsewhere, so we need to be able to move in that way.
"The last one is around service; being able to always be "on", and have up-to-date records and be able to react to issues. That's really critical."
Shaw and KCOM formulated a transformation strategy around upgrading their capabilities in these three areas. This meant not only constructing best-in-class systems, but also ensuring they worked using a scalable delivery model and an industry-leading IT architecture. The aim was to truly elevate the customer and employee experience.
The immediate priority was perfecting the customer journey. KCOM called on the talent in its Consumer, Wholesale and Technology teams to reimagine the "customer flow", from the point of an individual or business wanting a service through to engineers completing an installation. With strategic partner Vlocity in place, Shaw set out a highly-ambitious plan to launch KCOM's customer ordering and proposition management solution within a matter of months. 
"I must admit, when we started the project and we sat down in the kick-off meeting and I set the team the target, I think the look of shock and "that can't be done" was hilarious," laughs Shaw.
"But we were ready to go. I'd worked with Vlocity in the month preceding kick-off and we had introduced the concept of an MVP (Minimum Viable Product), really to get the idea of "agile" into the way we do things. We colocated people, we really brought the teams together and we made it something different that we hadn't done before." 
KCOM worked alongside Vlocity throughout the launch, leveraging the Vlocity Communications Cloud. Founded in 2014, Vlocity has quickly become a respected player in the CRM space, enjoying particular success in the telecoms sector. Earlier this year it was acquired by CRM giant Salesforce for $1.3 billion. 
"Vlocity is the engine that holds all of our product catalogues and really enables us to configure and drive that best customer journey," he says. "Given where we are and our ambitions, Vlocity gave us everything that we needed; the speed, the cost-base and the ongoing support." 
Ultimately, KCOM was able to unveil its MVP in January, only five months after the project began. Following a soft launch, the full launch came just 10 days later and in the months since it has already completed seven releases by working in two-week development sprints. Now KCOM boasts a fully operational platform for customers to seamlessly engage with its products through digital channels. 
Shaw says KCOM opted for this Vlocity-led platform approach to ensure not only speed of delivery during the build phase, but also to allow for easier configuration of its software moving forward. Vlocity's "low-code" solution means KCOM is able to train non-specialists to configure it, leaving the Technology team to focus on other priorities. He wants to take this "Know the Platform, Trust the Platform, Clicks not Code" approach on to other implementations. 
"It has given us a real boost in productivity. We can now put our coders on our digital experience right at the front-end where we can add the real difference," he adds. "When we get to the product journeys, this means it's all around configuring the best experience. The idea that small changes should be done by the Commercial teams, and medium to large-scale changes by the Technology teams, is something I'm really keen to do. 
"Why do I think that's critical? The business is forever changing, whether that's a new product, new pricing, a new feature – if that's something the Commercial teams can do in the moment, and it gets checked and tested and can be released the next day, why wouldn't we do that? That's the direction we're starting to really think about how we take certainly the Vlocity platform and the work we've done with Salesforce at the front end."
 The automated testing element built into the platform underpins the broader DevOps approach adopted by Shaw's Technology team, as he goes on to explain. 
"When we've got that ability to test everything automatically and be confident, your ability to develop faster and release faster is really enabled. DevOps does create a better way of working between your development team and your operations team, but without that test automation, you can't get to the point of fast delivery, which is the ultimate goal of DevOps." 
Another critical change KCOM has made to maximise order fulfillment is greatly reducing its number of base products. At the beginning of this transformation process Shaw oversaw an audit which revealed that more than 100 different products were being offered to its relatively small consumer base. Order fallout, especially around new products, is a common problem for telecoms operators. 
To address this issue, the team consolidated KCOM's various products into a core range of less than 10 and Shaw says this catalogue-driven approach has had a simplifying effect on the company's processes. 
"We can simplify our billing, we can simplify the way we construct our systems, the way we provision the network – everything becomes a lot more straightforward because it's just got to be done for 10 different variations, instead of over 100," he states.  
"This was a hard one to get across to the Commercial teams: the idea that we only want a certain number of products to be sold. Through the new platform they can make commercial variants, but there are set, core products. Winning hearts and minds has been more of a challenge than the technology side, but now they're starting to see that billing has always been a challenge for us because of the number of products we offered." 
Simplification is a running theme throughout KCOM's transformation story. In the short time since launch, its platform has resulted in quicker fulfillment cycles and reduced customer fall-out, which has led to better use of engineering time and a high Net Promoter Score. The next steps for Shaw are creating these efficiencies everywhere possible. 
"Like any transformation, launching the new platform is the milestone," he says. "Actually closing the legacy so that everything is on there is now my biggest focus. We need to get to a point where this is the only game in town and we can really start to declutter our IT estate across the business." 
For IT leaders, the challenge of technology implementation is matched by challenges around people and skills. Employee satisfaction, alongside customer experience and revenue, has been a motivating force behind KCOM's work up to now and will continue to be going forward.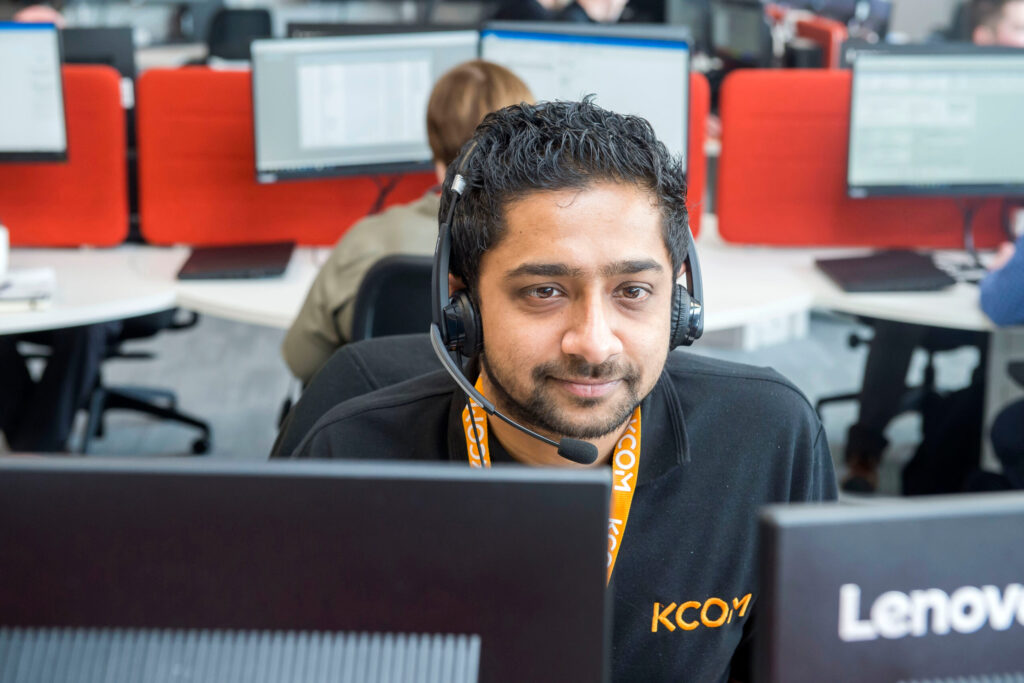 Shaw concentrated significant effort on ensuring members of his Technology team were armed with the right skills and certification to excel on the Vlocity platform. After some intensive training on Vlocity's programmes, KCOM can now claim to have some of the most proficient people on the platform within its own organisation. 
Going beyond that, Shaw admits the transition to new ways of working hasn't always been easy – but that the wheels are now very much turning on what he calls "business transformation". 
"I will never forget sitting down with the teams in our contact centres, trialling our new system and them trying to use the same process they use today and saying it wasn't the same and could it be changed to match what it was before. That was a real kind of lightbulb moment for the teams in that area, realising that a new system doesn't just mean following the same way you've always worked. 
"We're having to change everything that we do going forward. How do we shift the way that we think? How do we change the way we work? From that point onwards, it moved away from just being technology transformation to business transformation." 
Another milestone in the journey came during a board meeting at the beginning of this year, adds Shaw. 
"We were in an executive meeting and they were asking for an update on the digital transformation from myself as CTO. As I was starting to go through it, you could really start to see the room realise that not only was technology delivering, but it was really challenging the way they worked. I was in there with Lindsay (Lindsay Rogers, Head of IT Delivery), and we both heard the penny drop across the business." 
Moving forward, KCOM's CTO is confident his Technology team is creating the right culture for change and success, led by an agile approach and design-thinking. The next step in its digital transformation is driving through a new service management solution, working to a similar timescale to that of the previous MVP.  
As it has done throughout its long history, KCOM is acting fast and staying innovative – qualities Shaw believes make it an exciting place to work. 
"When I joined, we were just at the start of this transformation journey, and now, nearly a year on, we've achieved so much," he concludes. "The best thing about working here is actually seeing ideas that I've seen before, I've done before, but actually at the size of business where you can make significant change really quickly. You can just watch the business – and the way we do business – move with what we do."