The seller of the future, powered by data, analytics and AI
After 40 years in the technology business, CDW's sales teams remain on the cutting edge of data, analytics and and AI.
CDW Corporation (Nasdaq: CDW) is a leading multi-brand provider of information technology solutions to business, government, education and healthcare customers in the United States, the United Kingdom and Canada. A Fortune 500 company and member of the S&P 500 Index, the company has continually innovated to maintain its position as the primary resource for a vast array of IT products and services for customers across a spectrum of sectors.
As the technology world has become increasingly complex, so has delivering optimum service as a leading provider of IT products and services. From humble beginnings in the 1980s, USA-based CDW is now a multi-divisional organisation  making transactions in over 160 countries. Its 15,000-strong workforce generated sales of more than $23 billion in revenue in 2022, with the company serving several  key sectors, including: small and medium-sized enterprises, education, healthcare, and government. 
After building a substantial global capability over the last six years, the company is now looking to take things to the next level. To do this, it must empower its sales workforce to become even more responsive and in-tune with customers' needs, in turn enabling a higher level of service throughout the end-to-end sales process and beyond.
Jill Billhorn, Senior Vice President of Commercial Sales at CDW, says: "Our business is to take customer challenges, issues and opportunities and match them up with the best manufacturers and service providers in the world.
"We are one of the largest partners of all these major manufacturers. It gives us increased leverage, both from a knowledge and technical resource standpoint, which helps us wade through all the complexity around technology and how it makes businesses work. CDW serves as a one-stop shop for technology needs in today's more complex marketplace."
As with most companies, the way CDW operated evolved during the COVID-19 pandemic. It did so in concert with its customers, who were also shifting the way they did business. Remote and hybrid working environments emerged at pace, accelerating a trend that was already in motion.
"I think it created some vulnerability across the customer landscape. Regardless of what kind of customer you were, nobody had a standard operating procedure, or a manual to say, 'this is how I should do business during a pandemic'. I think the creativity and innovation around that time really accelerated digital transformation," says Jill.
"The relationships we've fostered were very important because of the trust involved. But we were all navigating this together. I would say the digital acceleration and that landscape around doing business differently was already happening, but it underwent a major lightspeed acceleration. Technology solved those unique problems. We are now helping customers understand what the future looks like in a more hybrid way."
There were learning points gleaned from the pandemic for CDW, primarily that its own infrastructure needed to transform to keep pace with growth and the changing nature of its customers' needs. As the spine of CDW's success, Jill says its sales teams needed to demonstrate to customers how they were relentless in transforming themselves to provide better service. Sales advisory boards came to prominence – set up to provide continuous feedback in real-time, ensuring the sales organisation  understood what changes needed to be made, and then make them quickly.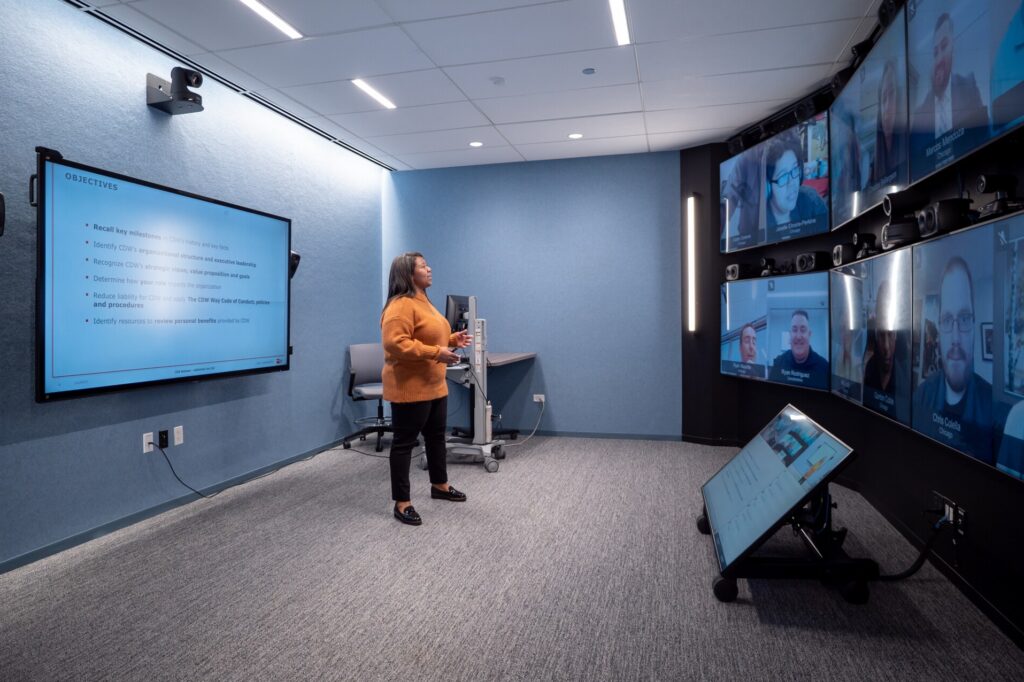 A significant change more recently has been upgrading the company's enterprise CRM. Jill says: "It was an extremely important decision. It was also a very large investment for us. We're at the beginning of a journey to automate and modernise  everything in our systems from the tip of the spear all the way through to our cash and invoicing."
These changes have been geared towards helping the CDW salesforce be less burdened by process, better informed, and empowered with data. It is a cultural journey as well as one of digital transformation, and the evolution has enabled the CDW sales team to be even more attentive and tuned in to customers' needs. 
The average seller has been working at CDW for more than 12 years, and the average customer has been involved with the company for over a decade. A key reason for this, believes Jill, is how the company's management team has empowered its salesforce. She says: "Great salespeople are revered at CDW because they build their own sales pipelines. They drive customer relationships. They work hard. We give them a lot of autonomy and flexibility on how they want to build their own books of business. They must get to know customers' businesses very intimately to understand how it matches up with the right solutions. We are major connectors in this regard.
"The single biggest problem for any sales-driven organisation is how to take non-selling time off the plates of sellers. We believe that our recent technology additions help us to achieve this goal."
CDW has experienced significant growth in recent years, with revenue rising by more than $5 billion since 2020. The company serves its customers with a portfolio of more than 10,000 products, ranging from laptop accessories to entire server farms and attendant services. However, with the company's continued growth, it was also important to continue to evaluate and update its technology to keep pace. A legacy ecosystem – built internally over a number of years – couldn't scale to accommodate the company's evolving needs. To meet its own high standards of customer service, further transformation was required.
Amarnath (Amar) Lingam, Vice President and Global Head of CDW's Enterprise Data Science and Analytics organisation , explains: "If you look at our impressive supply chain, the way we operated so far has got us to this level. But if we really want to scale to even higher growth, we can achieve much more productivity through the transformation of the technology that we have. There are many opportunities to make a difference for our customers through our solutions and product offerings." 
Amar  leads CDW's development of advanced technologies in the analytics and data science space to deliver powerful new insights to the company's sales team. Installing a comprehensive new CRM system is the latest highlight of a programme that has also seen Amar work closely with Jill to construct an advanced AI-driven product for the entire sales organisation. A game-changing innovation, dubbed Customer Mosaic. 
Ingesting and processing data from both internal and external sources, Customer Mosaic is described as a single place for a seller to learn everything about their customer, to find new opportunities and to share learnings across the seller community. It has become a key tool within the company's transformational arsenal.
Amar says: "We didn't focus on the traditional way of just building reports or dashboards; we have taken a product approach. This means building AI-driven data products with a modern augmented analytics approach for insights to solve multiple pain points at the same time and displaying all those insights in one place in a nicely packaged way, just like an app on your phone.
"The AI portion of Customer Mosaic is what we do in the back end to drive that efficiency. It's the workhorse in the background, creating sales opportunities based on what we learn from all the different places we pull information."
Jill adds: "We can understand what customers have done with us, the landscape of their historical purchases. It also pulls in external data that will give us news and information about people in their organisation and news around their businesses so we can counsel our customers appropriately. It also taps into our e-commerce marketplace to understand what they're thinking of – where they are searching, what they are looking for – and it pulls all that together in a central product for sellers.
"Plus, it gives me a high-level view of all our customers – their information, what our relationship has been, and key pieces of information around their business – to better prepare me for customer visits and to fully understand the marketplaces where we want to invest."
The vision is for Customer Mosaic to be fully incorporated into CDW's CRM system and to enable much richer propensity modelling, offering powerful, actionable information and opportunities directly to sellers. Building such a knowledge base thus far has been a very human, manual task; the time saved alone will represent a sea-change for CDW's processes and the experience of its teams.
Customer Mosaic is also able to serve up information about CDW's customers,  newscustomers, news, and trends, giving CDW's sellers important insights, while helping measure their productivity and act as a coaching tool, guiding them to standout areas of opportunity. Amar believes it is also sparking greater customer engagement due to the density of information providing more talking points.
CDW has also leveraged intelligent process automation via an AI-powered digital assistant trained to perform regular business processes. Jill and Amar say feedback from sales has been tremendous, with sellers actively proposing new capabilities to ensure continued improvement. This is driving a lot of efficiencies and aims at improving the seller and customer experience overall.
CDW has employed tools from business-planning software pioneer Anaplan to further its data intelligence and efficiency goals, effectively automating the processing of sales quotes, invoices, and orders from customers.
Anaplan's Predictive Insights product interprets the context of activities and understands what is being requested of CDW by its customers. It then works behind the scenes to process requests and deliver them to sellers to inform their interactions without them having to do the hard lifting themselves.
"I call it coherent journey connection," says Amar. "Anaplan will also provide us with intent and signals, gained from a wide variety of communication channels. We can attach these signals to our own customer journey, meaning we now possess a robust set of intent signals our customer is generating."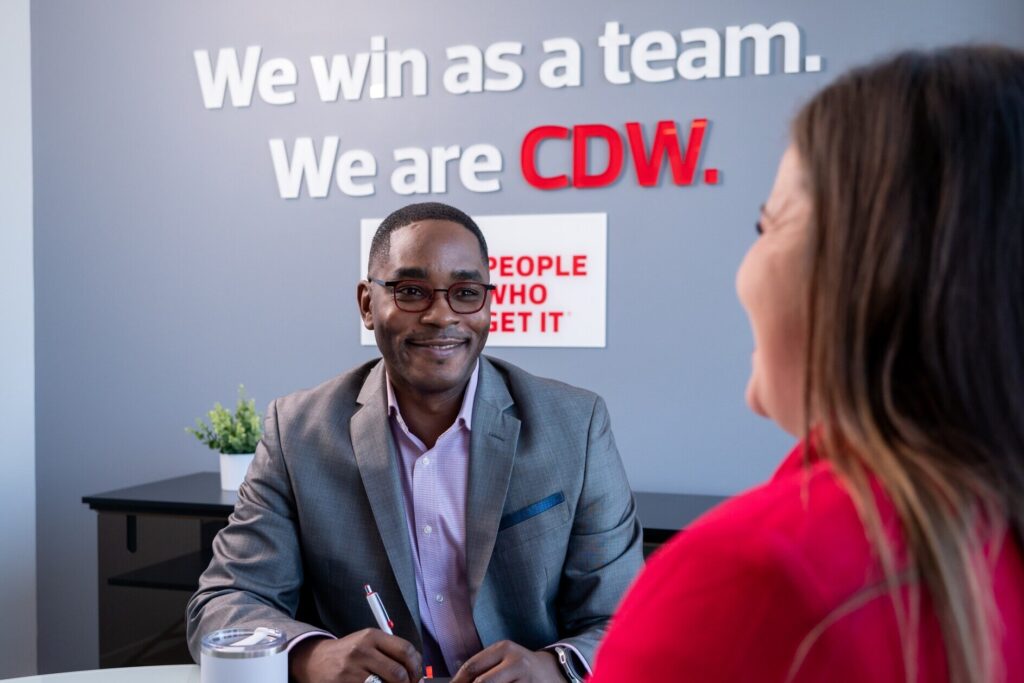 Layering propensity modelling on top, based on customer behaviour, affords CDW a crystal-clear picture of opportunities with customers, allowing its teams to cross-sell or upsell based on knowledge of what products a particular customer is already purchasing.
"The entire concept is enabling the seller of the future, and the capabilities that we could give them, to help them create an enriching customer experience and to achieve greater success," adds Amar.
CDW has already deployed Customer Mosaic and its Anaplan integration to thousands of sellers across its organisation and continues to roll these tools out systematically across market segments. The positive impact they have made is remarkable.
Amar says: "We've had overwhelmingly positive feedback. A lot of anecdotes and success stories from sellers, and the sellers who are adopting these products are really pleased with our digital transformation."
The sellers of the future
Going forward, the job of CDW leaders such as Jill and Amar is to encourage engagement and adoption throughout the business. Regional leadership and business champions will evangelise the new tools to the organisation at large and illustrate how to best use the technology. Several roadshows are being held, and the news is being published internally across CDW publications to improve visibility for sellers who may not yet be fully aware of new capabilities available to them.
"The advisory boards were very impactful for our sellers to stay engaged and to feel like they were empowered to deliver feedback, make changes, and offer recommendations for the organisation. 'Sales' can sometimes have a negative connotation, but we really look at it as CDW being a connector and building relationships on both the partner and customer side," says Jill. 
Both Jill and Amar agree that the sky is the limit when it comes to how the technologies they are deploying will help create the sellers of the future at CDW. For now, the focus is on growing adoption and threading these products together throughout the company, but Amar is driving towards a truly unified seller experience.
"The role of the CDAO is to treat data as a strategic and enterprise asset, drive innovation, and create business value and efficiencies, and to propel growth. That is the core foundation of our strategy. That's the future – evolving these products further. We have built a robust enterprise level Data Science and Analytics strategy. We have a strong team, we have strong partnerships, and we have achieved success with these various data products. Now I think it's time to build upon it, enhance it further, and have one of the leading digital strategies in the industry. That's our goal."