Efficiency Is Key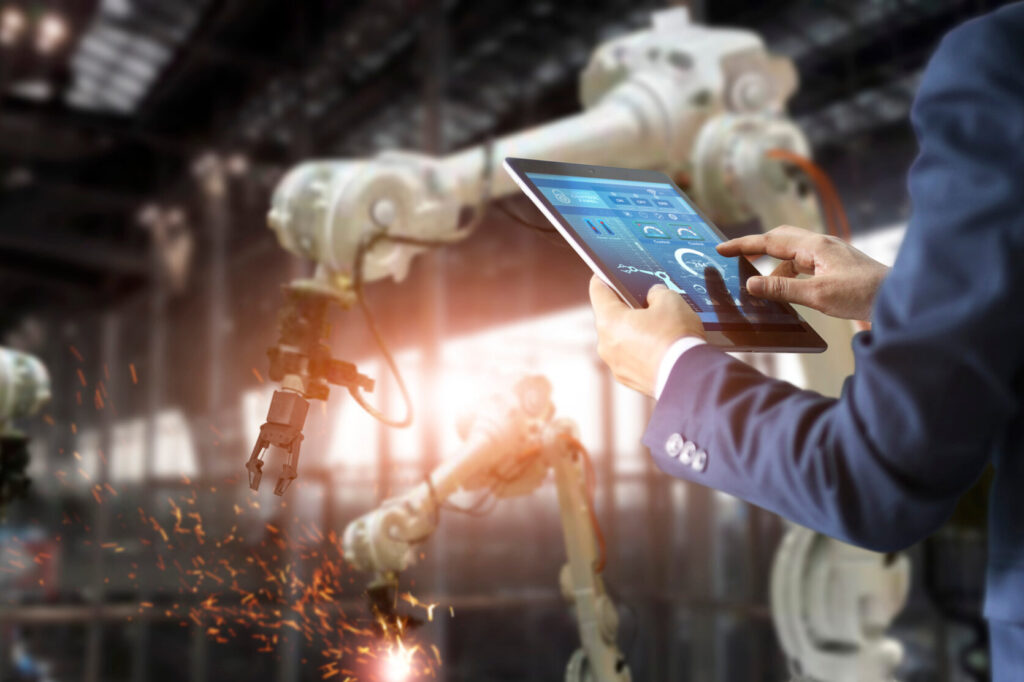 The UK Those of us who visited the supermarket during the early onset of the pandemic only to find empty shelves and fridges can understand how COVID-19 exposed cracks in our global supply chain.
Staff shortages, manufacturing and logistics challenges, plus increasing fuel prices had a big impact. Yet, it was months before some degree of normality was restored to buying from the stores or having goods delivered to our homes. A key reason is that many industries that employ frontline workers – from manufacturing to distribution to transportation –  have been largely overlooked by the technology industry.
The operational complexity and physical risks of these types of work environments are a challenge, but the industrial sector has fallen behind in its digital transformation efforts. Not having access to strong connectivity, real-time data or mobile-optimised workflows explains why distribution and last-mile delivery were sent into overdrive.
Digitally transforming this world of physical operations is no longer a nice-to-have – it's a critical need. In 2022, there will be three key areas of focus for organisations looking to harness Internet of Things (IoT) connectivity to power their operations: safety, sustainability, and efficiency. 
In In physical operations, ensuring the safety of employees is a priority, whether they're working in warehouses, operating cranes, or driving orders to a customer's front door.
Dashcams or high-definition cameras, connected via the cloud, allow businesses to capture important incidents as they take place. Workforce buy-in might prove to be challenging, but it's an approach designed to protect employees as much as the business.
Our own data from our 28,000+ customer base shows that more than 50% of those with dash cams have used the footage to exonerate drivers, and it's estimated that companies have saved £200m by using the video to defend against false claims.
Warehousing and distribution company Bretts Transport adopted dual-facing dash cams bringing visibility into incidents and driver behaviour, with the footage shared via the cloud rather than on manually retrieved SD cards. As a result, accidents have reduced, alongside the number of recorded fault incidents, and overall driver performance has improved.
Driving sustainability and the ESG agenda
Pressure is on for transportation leaders to cut carbon emissions, with our research revealing that 78% of operations and fleet leaders believe they have a greater responsibility to prioritise sustainability efforts than other industries.
IoT data makes it possible to understand the environmental impact of daily operations and determine how meaningful changes can be made to drive significant reductions.
Real-time data from sensors and cameras can be used to understand the fuel used when vehicles are idling, determine optimal, more efficient routes, and inform fuel-saving driver coaching programs. Critically, this data gives leaders the ability to benchmark emissions and then measure progress towards the sustainability goals they have committed to.
Dohrn Transfer Company, which runs a 545-vehicle fleet from Illinois, USA, is seeing the benefits of placing IoT sensors in every truck. Live data reporting by GPS, fuel usage and idling time have enabled Dohrn to reduce idling time by 50% and deliver $500,000 savings in fuel costs per year.
Another sustainability strategy to reduce emissions is the electrification of vehicles. More than three-quarters (77%) of the operations and fleet leaders we surveyed said it is very important for their organisation to meet its sustainability goals, and 26% said it's the most important thing.
As a cleaner, more efficient alternative to gas and diesel, electric vehicles (EVs) are an important step in sustainable transportation, but IoT data is essential to their effective management. For example, planning routes based on the availability of charging stations, insights on charging times, and energy consumption.
As with every business, controlling costs and maximising productivity are critical for organisations running physical operations.
Margins are tight, so without visibility into day-to-day operations, it's likely money and time are being wasted unknowingly. Yet Samsara data shows that on average 19% of employee time is used searching for information and 20% of commercial vehicles are underutilised.
IoT is key to cutting out inefficient processes. Through GPS tracking, every vehicle, asset and piece of equipment can be located instantly, and drivers are provided with real-time information, customised routes and digitised documents to accelerate workflows.
One example is the telecoms and utility services provider Kelly Group in the UK, which is using real-time GPS data to track the precise location of its 2,500 vehicles, with remote diagnostic alerts helping to prevent maintenance issues and reduce downtime.
The world of industrial operations is at the precipice of a massive wave of digital transformation. Artificial intelligence, IoT connectivity, cloud computing, and advances in camera technology are key drivers in the race to digitally transform the world of work, empowering frontline workers and their respective industries.
This accelerated digital transformation, sparked by the pandemic, will put industrial operations at the forefront of some exciting innovations, many of which are already starting to take hold.
Philip Van Der Wilt is Vice President EMEA at Samsara. He discusses using IoT to digitally transform the world of physical operations.