IoT and advanced technologies save lives
The Healthcare industry has certainly been under the spotlight over the last couple of years where COVID-19 has accelerated the speed of technology adoption. Emergency care has also come under increasing pressure since ambulances represent the key service within the industry, needed to tackle the crisis.
During the pandemic, it was challenging for emergency care and ambulances services arriving at the patient location to quickly identify in real-time whether ICU beds are available with the required equipment needed for the affected patient.
The Emergency Service dispatcher needs to accurately find the nearest hospital with available ICU beds, ensuring patients get rapid life-saving treatment while the patient's transfer is in progress.
This can be life or death situation where minutes and seconds make a difference. Time-to-care can be very long.
In some cases, the travel time made while moving patients from one hospital to another in search of finding a bed might result in death due to failing to receive hospital treatment in sufficient time.
This is where Advanced ICT technologies provide the solution.
Time-To-Care improvement in real life Implementation
An exemplary model of how technologies can be put into the hands of healthcare service providers has been successfully implemented in Africa. That has proven how technologies, collaboration and innovation contribute to enhance and save people lives. 
A pilot project has been successfully implemented using advanced wireless IOT sensors deployed in ICU units in hospitals to track the ICU bed availability, integrated with Healthcare Information System (HIS) platform and updated in real-time. The solution is also integrated with the ambulance tracking system.  
Upon ambulance arrival at the accident location, the suitable hospital Emergency Room (ER) with available ICU beds are identified instantly, so ambulances can be immediately directed to that location. Ambulance estimated time of arrival (ETA) at the hospital is also calculated, while patient data and history records can be fetched and prepared in advance. 
First, this enables the Emergency Medical Technician (EMT) and dispatcher to get real-time beds availability information in all the connected and provisioned hospitals. The end result is that Time-to-care is dramatically reduced. 
Secondly, during the patient transfer to the hospital, this solution helps hospital staff to remotely monitor the basic vitals of patient, so that appropriate care is given to the patient throughout the journey to prevent further injury and promote recovery. Remote on-line Video consultation between the ambulance and the hospital is enabled through the dedicated wireless network and Smart Interactive screens installed on the hospital. Finally, the patient is handed over to the emergency care unit of a hospital or clinic in the care of physician 
Upon entering an emergency room and pre-admission, patients immediately receive IoT-enabled ID wristbands connected to all-in-one WIFI network that tracks them through each step of their treatment. This helps analyse how long patients spend in each part of the process to uncover areas in need of improvement and updating the patient records in the integrated HIS. 
Digital technology is transforming the healthcare landscape
Adapting advanced ICT into healthcare digital transformation initiatives has become game-changers and the top priority for nations eager to boost economic growth and improve people's lives.
The pilot project has proven to be one step in the right direction. Emergency care has the potential to play a major driver towards successful completion of health-related Sustainable Development Goals targets.
There is no doubt that the global healthcare market is enormous and investment in healthcare is growing. There are still huge opportunities for digital technology and innovation to transform standard practice into a comprehensive digital modern healthcare landscape, driving economic growth as well as improving life and overall well-being.
That will require more comprehensive and accelerated collaboration among industry players, leading technology providers, private and public sectors.
Digital Transformation has plenty to offer those institutions who are open to create the innovative social and business collaboration environment that spans across technologies, cultures, and borders.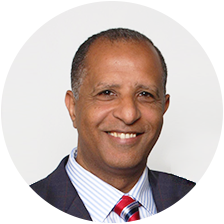 Medhat Mahmoud –  Chief Digital Transformation, Huawei Northern Africa OpenLab
Medhat is a senior ICT and IoT global industry expert with an international profile. He has led successful projects and digital transformation initiatives with key international ICT industry leaders and held various senior positions, managing global assignments in North America, MEA, and APAC.
A strategic and visionary leader with an entrepreneurial mind-set, known for his creativity and fresh thinking, Medhat focuses ontransforming concepts into innovative products, from ideation to market.
A regular article contributor, he is a strong advocate of adopting ICT technology to improve collaboration, innovation and education in transforming people's well-being.
 Prior to OpenLab, he led Huawei's IoT Competence Center in Silicon Valley, California, USA.